Zoomed in image of an Electronic Braille Display.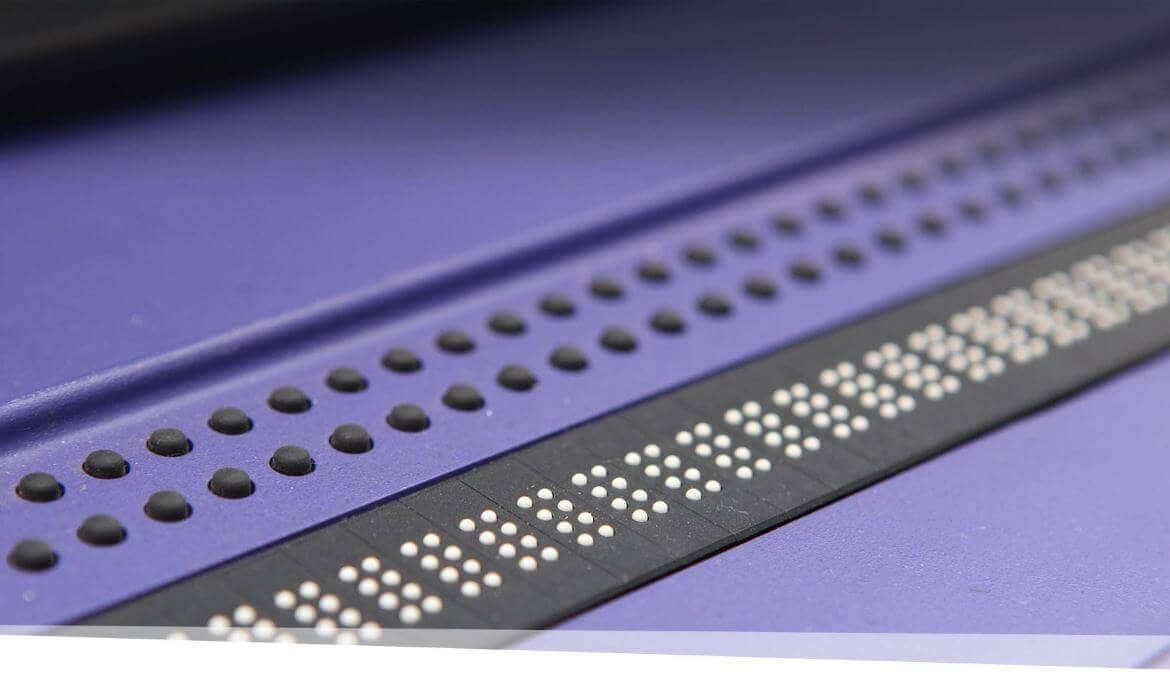 Our Services
Lakes Vision Services can provide a wide range of services related to equipment used by a blind or visually impaired person.
This might be a specific piece of equipment, or software, designed to be used by someone with low vision or it might be a piece of mainstream equipment that can, through some adaptation, also be used by a sight impaired person. Irrespective, we can help support you with whatever equipment or software you are either using, or may need to use. As is often the case, a person may not be aware that such equipment may exist. Lakes Vision Services can visit you, discuss the issues you are experiencing, explore what is available or how you might be able to adapt whatever you may already have and then, look at how we can best support you. This may be through a series of sessions explaining the equipment or software and ensuring that you understand how to use it yourself or, it may simply be a one off visit or phone call.
Examples of the type of support may be to demonstrate how to enable the accessibility features of a mobile phone, how to use a computer with speech or magnification or, to explore methods to enable you to be able to read books or magazines where you might previously have thought you might not be able to enjoy reading again. Explore our Services page to find out more. Although in essence, the service delivered by Lakes Vision Services is very much technology orientated, this may not always be the case. There are many solutions to problems faced which do not involve any technology or, at least, very little. Please do not hesitate to contact us with any vision related enquiry. Where we may not be able to resolve the issue or answer your query directly, we will be able to sign post you on to another organisation. One of our philosophies is to work in partnership with other organisations.
---
Why Is Lakes Vision Services Needed?
Sadly, and more often than not, we all reach a time in our lives when we simply cannot see quite as well as we used to. Failing sight is something that can affect any one of us, particularly later in life.
It is also, unfortunately not only older people who are affected by sight loss. Cumbria has a high proportion of people with sight loss. Our aim is to help those people to overcome the difficulties and issues face when dealing with a visual impairment. How do you access information, read a newspaper or book, use the internet and email those loved ones throughout the country or even the world. Lakes Vision Services is able to travel anywhere in Cumbria to visit people needing support. Whether you need help to use your mobile phone because you are no longer able to see the screen, or whether you would like help to use your computer, please feel free to contact Lakes Vision Services.
Other services are available in Cumbria but these are not as extensive as that provided by Lakes Vision Services. We can provide training sessions at home or a home visit. Steve Hyde-Dryden, who is our CEO and Technology Trainer is himself blind and has considerable experience in the field of Assistive Technology and relative issues related to visual impairment.
Disability Confident Committed Member
Through Disability Confident, a government led scheme. We are working to ensure that disabled people and those with long term health conditions have the opportunities to fulfil their potential and realise their aspirations. We are a committed member of the scheme and we aim to meet and exceed the criteria.